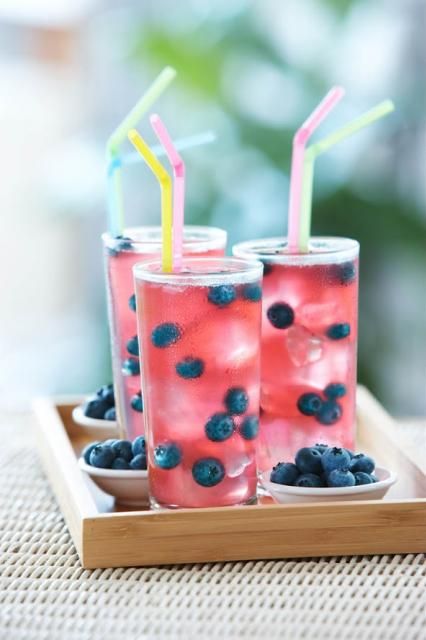 Food can be a tricky subject for most families. As parents we want to make healthy meals for our families, as well as choose foods that will keep our minds sharp, our bones strong and keep the middle age spread at bay. But kids – well, mine at least – always seem to want the opposite.
So how do you find some middle ground? Well, blueberries might just be the answer. After all, they are called nature's candy.
So when the BC Blueberry Council invited my son Ben and I to make an entire meal featuring his favourite food, I couldn't say no. The pitch was simple: blueberries are amazing, and kids should be helping in the kitchen however they can. (I'll admit I cringed a bit at that last part: cooking can be challenging at the best of times without little hands helping.)
The recipes we made went beyond kid-friendly muffins and smoothies. Along with blueberry salsa and lemonade that we snacked on when we arrived, we were given the the ingredients to make three dishes. A turkey burger with blueberries, a soba noodle salad and a dessert pizza.
We were split into two groups and our table was in charge of making the turkey burger for everyone. Ben looked a little nervous when he realized we would have to put our hands in raw turkey, but was gung-ho cutting and measuring the ingredients.
He was extra eager to make the dessert pizza, so once we had washed our hands thoroughly we moved on to designing our after dinner treat. Once that was done, it was time to try out our meal.
Ever seen a five-year-old deflate? All the excitement of making the food disappeared the second Ben realized he had to taste what he just made and they were all things outside of his comfort zone. Remember though, there was dessert pizza so he gamely ate a little of everything.
The turkey burgers made with chopped blueberries were a hit, the soba noodle salad less so, but he still had five bites. I thought it was delicious, and if you added some chicken it would make a fantastic cold dinner. Of course, the dessert pizza went over as well as you can imagine.
Along with a great set of recipes (included below) we also learned a little about Canadian blueberries.
The growing season is from July to October and the berries are tickled off the bushes by hand or machine. Machine tickled berries are used for frozen products.
Each berry contain vitamins C, A and E, potassium, calcium and magnesium. A one cup serving contains 3.6 grams of dietary fibre, no fat and about 80 calories.
BC Blueberries are grown within a 60-kilometre circumference in the Fraser Valley. To put that in perspective BC has the smallest production area but is one of the top blueberry producers in the world.
And what did I learn about cooking with my son? The bad – it takes way longer, is more messy and that kids touches their face and bums incessantly which meant lots of handwashing. The good – he got to practice counting and word recognition, saw how ingredients become a meal and he learned that food takes time to prepare. As for me, I discovered that he is more willing to try foods that he has made and that he is a great little chef in the making.
Tell us what you think of these tasty recipes, and you can find more information at bcblueberry.com!
Pink Blueberry Lemonade
Ingredients
1/3 cup sugar
1-1/4 cups fresh blueberries, divided
1/2 cup lemon juice
Directions

In 1 quart glass measuring cup, combine sugar, 2 tablespoons of the blueberries and 1/2 cup water: Microwave on high until hot, about 1 minute; stir until sugar dissolves.
Add lemon juice, and enough water to make 1 quart; chill.
Fill tall glasses with ice cubes, add chilled blueberry mixture and remaining berries, dividing equally. Garnish with lemon slices if desired. To make Blueberry ice cubes: Place 3 berries in each of 12 ice cube cups. Fill with water and freeze. 36 berries equals about 1/4 cup.
Blueberry Pineapple Jicama Salsa
Ingredients:

1 cup (150 g) B.C Blueberries, fresh or frozen
3⁄4 cup (125 g) Pineapple , fresh or canned, diced
1⁄2 cup (75 g) Jicama, diced
1 tbsp (10 g) Jalapeño pepper, de-seeded and finely diced
1 tbsp (15 ml) Fresh cilantro, chopped
1 tbsp (15 ml) Lime juice
1⁄2 tsp (2.5 ml) Salt
1⁄2 tsp (2.5 ml) Pepper
Directions

Mix together the blueberries, pineapple, jicama, jalapeno, cilantro, lime, salt and pepper and set aside.
Blueberry Margarita with Cucumber and Basil
Ingredients

2 tsp (10 ml) Fine sea salt
1 Limes wedge
2 cups (10 cubes) Ice
2 cups (300 g) B.C blueberries, fresh or partially thawed
1⁄2 cup (50 g) Cucumber, sliced
1⁄2 cup (125 ml) Tequila
1⁄3 cup (80 ml) Pineapple juice
1⁄4 cup (60 ml) Fresh lime juice
1⁄4 cup (10 g) Fresh basil, chopped
3 tbsp (45 ml) Triple Sec
Garnish

2 tbsp (10 g) B.C blueberries, fresh or frozen
4 Cucumber slices
4 Basil leaves
Directions

Place salt in a shallow dish. Using lime wedge, moisten the rim of four glasses, then dip in salt and set aside.
Starting with the ice, put all the ingredients in a blender and blend on high speed until relatively smooth.
Garnish with blueberries, cucumber slices and basil.